Nothing says Halloween like a little fake blood and a lot of sugar! If you're feeling especially wicked this All Hallows' Eve, these spooky delights are sure to sweeten up your Halloween Party, and are perfect to make 'n' bake with your little monsters!
These Look Boo-tiful!
To keep it spooky this Halloween, we've searched the internet for 3 of the most devastatingly tasty treats for you to serve this October 31st using ingredients that you can get delivered to your door from Foulgers Dairy. Less time food shopping, more time making!
Did you know… The first Jack O'Lanterns were actually made from turnips. Boston, Massachusetts, holds the recon for the most Jack O'Lanterns lit at once with 30,128!
Get an Eyeball of These…
Sweet enthusiast, creator and baker of My Cupcake Addiction shares her sweetest, spookiest recipe for Halloween. Don't be deceived by the grotesque look of eyes eyeball milkshakes, they're a tasty treat that are a perfect use of your morning milk delivery!
Ingredients:
Strawberry sundae syrup
4½ cups whole milk
1 pint vanilla ice cream
1 scoop chocolate ice cream
1 cup heavy cream, whipped to stiff peaks
6 candy eyeballs
Preparation:
Pour 1/2 inch of strawberry sundae syrup into a shallow bowl.
Dip the rims of the glasses into the syrup, tilting slightly to allow excess drips to fall before turning upright and allowing the syrup to drip down the inside and the outside. Refrigerate the glasses.
Time saver: You can edge the glasses in advance, which also helps the blood drips to stay in place with you add the milkshake.
In a blender, combine the milk, vanilla ice cream, and chocolate ice cream and blend until thick and smooth.
Pour into the chilled glasses. Put the whipped cream in a piping bag fitted with a star tip and pipe whipped cream on top. Add some streaks of strawberry syrup, and finish with a candy eyeball!
Jack is Ready for Halloween!
Lorraine Elliot of Not Quite Nigella has prepared the perfect Jack Skellington cupcakes to bake with your little monsters this Halloween. Grab your eggs, milk and butter for these cupcakes fit for the pumpkin king himself!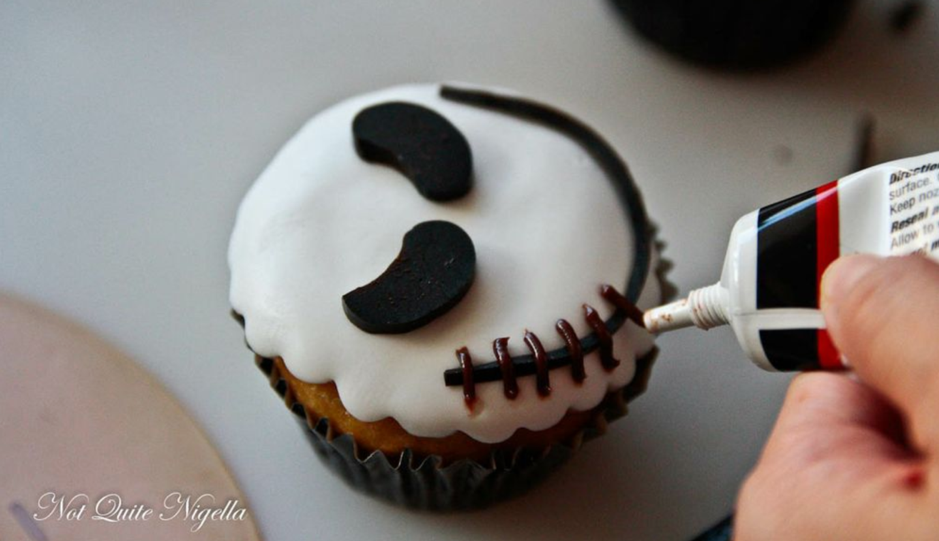 Ingredients:
2 cups plain all-purpose flour
1/3 cup cornflour/corn-starch
4 teaspoons baking powder
3/4 cup caster or superfine sugar
1 teaspoon cinnamon
1/2 teaspoon nutmeg
1/2 teaspoon ginger
1/2 cup milk, with a squeeze of lemon juice to curdle it
125g/4ozs butter, melted
2 eggs, at room temperature
1 cup pumpkin puree
For ganache:
300g/10 oz. white chocolate, finely chopped
1/2 cup cream
To decorate:
White fondant
12 sticks of black liquorice
Chocolate icing pen
Preparation:
Step 1 - Preheat oven to 180C/350F and line a tray with liners. Mix the two flours, baking powder, sugar, cinnamon, nutmeg and ginger. In a large jug mix the milk, butter, eggs and pumpkin and whisk together. Then add these wet ingredients into the dry ingredients and stir until just combined. Scoop into the prepared liners and bake for 25-30 minutes until a skewer inserted inside comes out clean. Allow to cool.
Step 2 - Make ganache. Combine chocolate and cream in a small heatproof bowl; stir with metal spoon over pan of simmering water until melted and smooth. Cool in fridge for about 30 minutes until it reaches a spreading consistency and spread over cupcakes. Allow to set for about 10 minutes and then using a small palette knife dipped in a cup of cold water, tap the knife a little and then smooth over the ganache. This is to provide a smooth surface on which to place the fondant.
Step 3 - To decorate, roll out the white fondant and cut into circles large enough to cover the entire top of the cupcake to the edge of the paper (to keep the cake part covered and fresh). Adhere the fondant to the ganache using a little water. Smooth it over with a rectangle of overhead plastic sheet.
Step 4 - Take a stick of liquorice and slice off some pieces for eyes and stick them to the fondant. Jack's eyes can be round or they can have expression to them-using a paring knife just cut out pieces from the liquorice. Cut a long thin piece of liquorice for the mouth and draw the stitches on with the chocolate icing pen.
A Chocolate Feast…
Every Halloween celebration needs chocolate! Perfect for chocolate lovers, this chocolate pumpkin cake is sure to satisfy those with a sweet tooth this Halloween. This recipe is from WomansDay, where you can see more photos of the finished cake, too!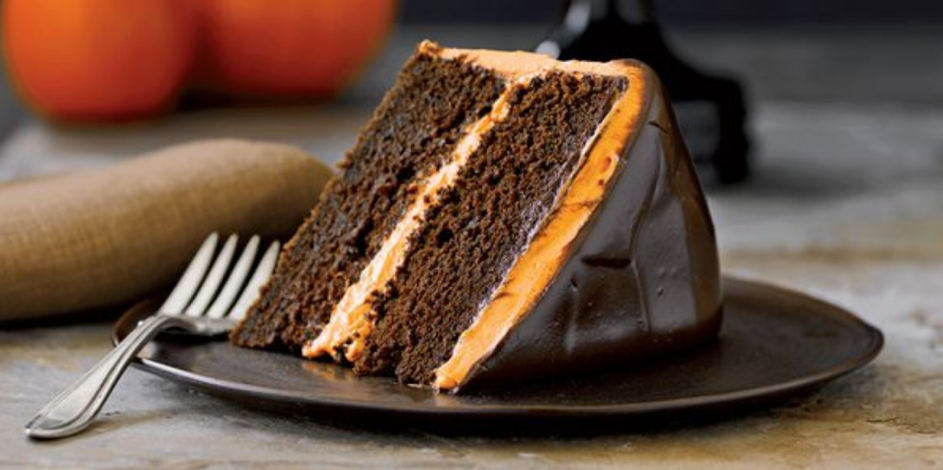 1 1/2 c. flour
c. cocoa
2 tsp. baking powder
1 tsp. baking soda
1/2 tsp. salt
1/2 c. buttermilk
1 c. canned pumpkin
2 tsp. vanilla extract
3/4 c. butter
1 c. dark brown sugar
1 c. granulated sugar
3 large eggs
1 egg yolk
Preparation:
Step 1 - Line the bottoms of two 8-inch cake pans with parchment paper and lightly butter.
Step 2 - Sift the flour, cocoa, baking powder, baking soda, and salt together. Stir the buttermilk, pumpkin, and vanilla extract together in a small bowl. Beat the butter and sugars together using an electric mixer on medium speed until light and fluffy. Beat in the eggs and yolk, one at a time. Reduce mixer speed to low and alternately beat in the flour and buttermilk mixtures in thirds.
Step 3 - Pour the batter into the prepared pans. Bake until a tester, inserted in the center, comes out clean--about 35 minutes. Cool layers completely before icing.
Step 4 – Frost. Beat 6 ounces softened cream cheese using a mixer set on medium-high speed until fluffy. Add 1 1/2 cups confectioners' sugar, 2 1/4 teaspoons cocoa, 1/4 teaspoon cinnamon, and 3/4 teaspoon vanilla and beat on low speed until well combined. In a separate bowl, beat 1 1/2 cups heavy cream with 3/4 cup confectioners' sugar and a scant 1/4 teaspoon orange food coloring on medium-high to soft peaks. Gently fold the whipped cream into the cream cheese mixture until well combined. Spread 1 cup frosting between the two layers and use the remaining frosting to ice the top and sides of the cake. Chill 30 minutes and proceed to step 2. Makes 3 cups.
Step 5 - Glaze. Place 4 ounces of chopped bittersweet chocolate, 1 tablespoon cold unsalted butter, and 3 tablespoons corn syrup in a medium heatproof bowl. Bring 1/2 cup heavy cream to a boil, pour it over the chocolate, and let sit for 3 minutes. Gently stir, using a whisk, until smooth. Let sit for 3 to 5 minutes, until the glaze thickens slightly. Pour the glaze onto the center of the frosted cake and smooth out to the edges to allow the glaze to drop over the sides. Makes 1 cup.
If one of these treats caught your eye, be sure to head over to the Milk & Dairy section to stock up on your milk, eggs and butter to make these fang-tastic treats!
From everyone at Foulgers Dairy, have a happy Halloween!