Turkey may be the star of the show, but be sure to round out your holiday feast with any (or all!) of these delicious Christmas trimmings. Maybe you need something to add a slight crunch or simply a new way to cook carrots? We've got a selection of recipes for all your favourite Christmas vegetables.
When it comes to serving the perfect Christmas lunch, Foulgers Dairy have you covered. Take the stress out of Christmas food shopping with delicious seasonal vegetables, including carrots and parsnips, all delivered to your doorstep this December.
Jamie Oliver's carrots with garlic yoghurt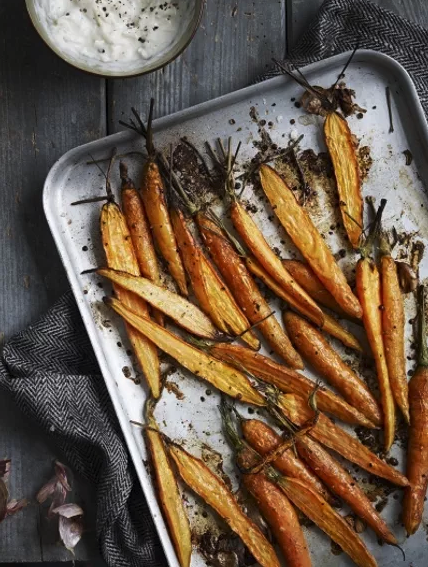 Roasting brings out the gorgeous, sticky sweetness of carrots, which the garlic yoghurt counters nicely in this dish. It's super easy and serves 6 as a side – Jamie Oliver's recipe is a great way to serve fresh carrots on the big day.
Ingredients:
750g small to medium carrots
1 bulb of garlic
1 tsp coriander seeds
1 tbsp sherry vinegar or red wine vinegar
2 tbsp olive oil
300ml thick Greek-style yogurt
Preparation:
Step 1 – Preheat the oven to 200ºC/gas 6 and halve the carrots lengthways, then separate and bash the garlic cloves, leaving their skins on.
Step 2- Place on a large baking tray. Lightly crush and add the coriander seeds, and drizzle over the vinegar and oil. Toss the carrots and garlic to coat, then season with sea salt and black pepper.
Step 3 – Roast in the oven for 45 minutes, or until the carrots are tender and caramelised in places but still have some bite. Remove the garlic as it caramelises or if it looks like it's burning.
Step 4 – Squeeze the garlic flesh from the skins and mash well. Mix through the yoghurt then serve in a bowl next to the roasted carrots.
---
Hairy Biker's roast parsnips recipe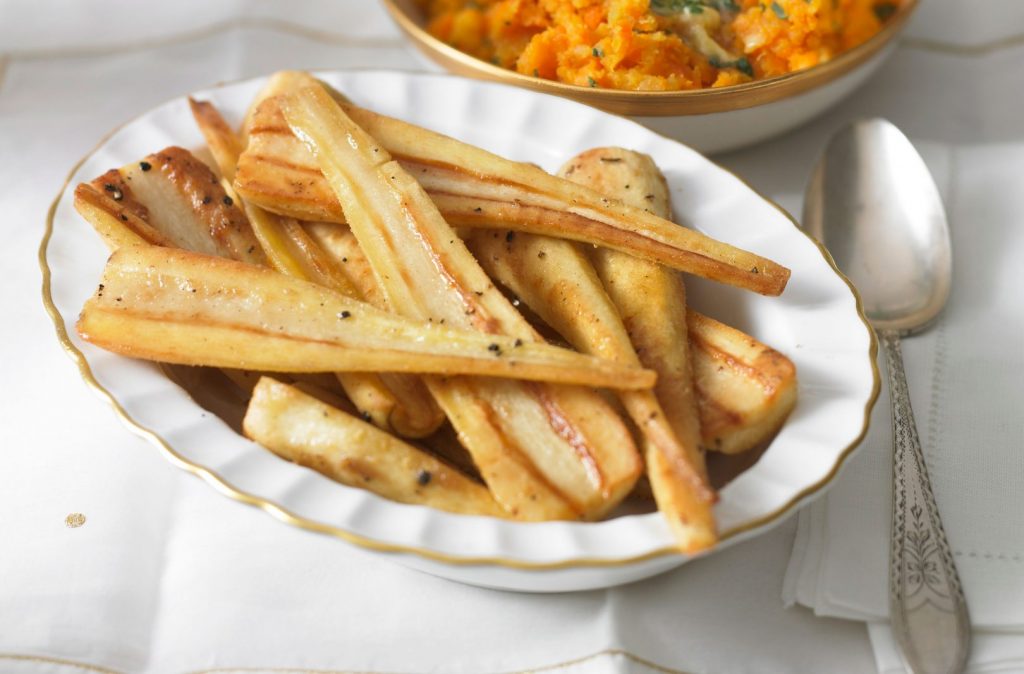 These are a real favourite at Foulgers Dairy, and an essential part of roast dinner tradition. The Hairy Bikers roasted parsnips are one of the most delicious sides to add to your Christmas Day feast this year.
Serving 10 people, these Brussels are a must-have.
Ingredients:
1kg parsnips
2 tbsp goose fat or vegetable oil
Lots of cracked black pepper and a sprinkling of sea salt
2 tbsp honey or maple syrup
Preparation:
Step 1 – Preheat the oven to 180°C/Gas 4. Peel and cut the parsnips into chunks. We tend to cut off the pointy end and then cut the stouter top into pieces roughly the same size so they roast evenly. Heat the oil or goose fat in a roasting tin until smoking.
Step 2 – Toss the parsnip pieces in the hot fat or oil until they are nicely coated, then sprinkle with the black pepper and sea salt. Place them in the oven and roast for about 45 minutes or until cooked and starting to turn golden. The exact cooking time will depend on how big you cut the chunks, so keep an eye on them.
Stage 3 – Add the honey or maple syrup and roll the parsnips in the sticky juices. Return
---
Nigella Lawson's perfect roast potatoes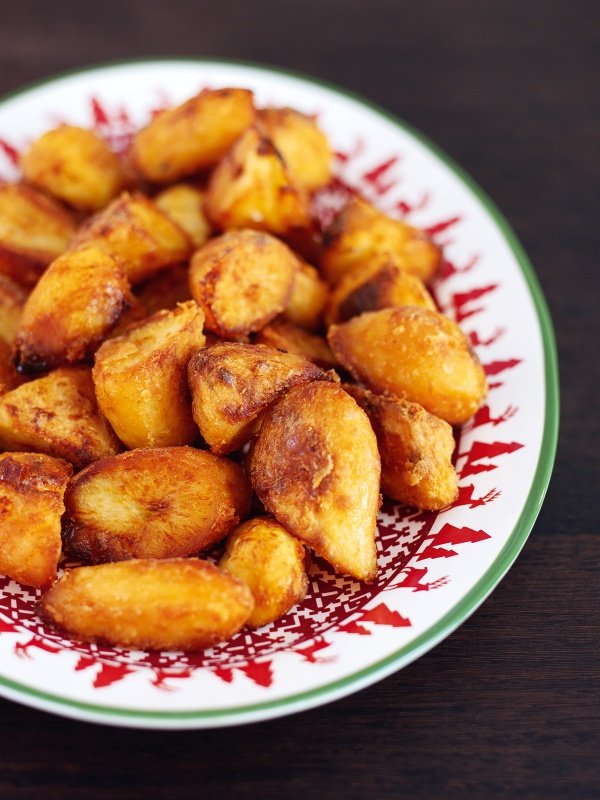 If your tasty turkey is the star of the show, then that makes your roast potatoes a remarkable runner-up. The ratio of crunchy outside to fluffy interior is a feat that we all hope to replicate on the big day, and thanks to this recipe from Nigella, it's within your grasp
This will serve 10 – 16 as part of the Christmas Day feast.
Ingredients:
640g goose fat
2 ½ kg potatoes
2 tbsp semolina
Preparation:
Step 1 – Preheat the oven to 250°C/230°C Fan/gas mark 9/500°F.
Step 2 – Put the fat into a large roasting tin and then into the oven to heat up, and get incredibly hot. 20–30 minutes should do it.
Step 3 – Peel the potatoes, and cut each one into 3 by cutting off each end at a slant so that you are left with a wedge or triangle in the middle.
Step 4 – Put the potatoes into salted, cold water in a saucepan, and bring to a boil, letting them cook for 4 minutes.
Step 5 – Drain the potatoes in a colander, then tip them back into the empty, dry saucepan, and sprinkle the semolina over.
Step 6 – Shake the potatoes around to coat them well and, with the lid clamped on, give the pan a good rotate and the potatoes a proper bashing so that their edges fuzz and blur a little: this facilitates the crunch effect later. I leave them to rest at this stage. If you don't, you'll need to have preheated the oven earlier!
Step 7 – When the fat is as hot as it can be, tip the semolina-coated potatoes carefully into it (they splutter terrifically as you put them in) and roast in the oven for an hour or until they are darkly golden and crispy, turning them over halfway through cooking.
Step 8 – If the oven's hot enough, they may well not need more than about 25 minutes a side; but it's better to let them sit in the oven (you can always pour off most of the fat) till the very last minute.
---
Don't forget the bread sauce!
Bread sauce is a traditional accompaniment to game and poultry, popular since medieval times in fact! It's famous for its delicious, creamy texture and complementary herb-tinged flavour –this recipe is sure to be popular.
Ingredients:
500 mlwhole milk
2 sprigs of thyme
Fresh black pepper
1 onion
25g salted butter
125g fresh white breadcrumbs
Preparation:
Step 1 – Simmer 500ml of whole milk with two sprigs of thyme, black pepper and an onion for five minutes.
Step 2 – Remove from the heat and leave covered for 20 minutes.
Step 3 – Strain the milk and return to the head. Add 25g salted butter, 125g of fresh white breadcrumbs and salt to taste. Cook, stirring, until smooth.
Add all the trimmings you need this Christmas and enjoy doorstep delivery from Foulgers Dairy this December. If you have any questions about submitting your order, please contact our customer service team on 01473 784999.