With the Queen's Jubilee weekend fast approaching, as is the predicted hot weather, we know there will be a lot of garden parties and Bank Holiday weekend get togethers happening. However, for the special festivities forgo the usual fizzy drinks and try something a little more exciting with some tasty mocktails that even the Queen couldn't say no to.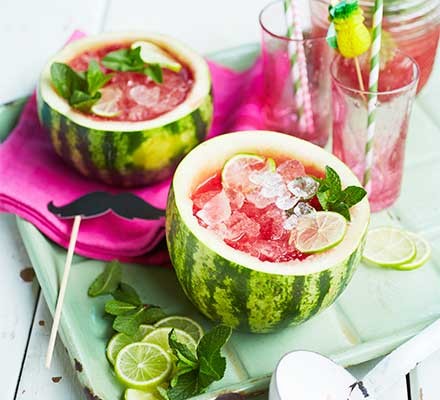 Watermelon lemonade
Ingredients
1 large or 2 small watermelons
250ml lemon juice (from a bottle or squeeze your own)
100g golden caster sugar
1L bottle sparkling water
1 lime, cut into slices
Mint, small handful
Ice, crushed
Method
Cut the top off the watermelon and hollow it out using a large spoon, fishing out any pips along the way. Mash the flesh through a sieve into a bowl. Put the flesh in a blender (or use a tall jug and hand blender) with the lemon juice and sugar, whizz to a purée, then stir in the soda.
Heap some ice into the hollowed-out watermelon and fill it with the lemonade mixture. Serve the rest in a jug with the lime slices and mint. Have a bowl of extra crushed ice on the side so people can help themselves.
Source: https://www.bbcgoodfood.com/recipes/watermelon-lemonade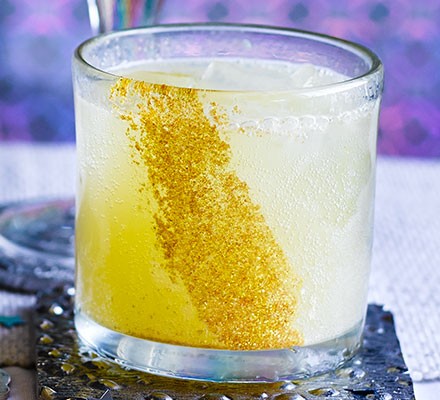 Pineapple and lime
Ingredients
1 tsp clear honey
Edible gold glitter
Coriander leaves, small bunch
1 lime, juice
750ml pineapple juice
Ice, handful
400ml tonic water
Method
Dip a pastry brush in the honey and paint a line down one side of 4 tumblers. Sprinkle some edible gold glitter over the honey, dust off any excess, then put the glasses in the fridge.
Chop the coriander leaves and place in a cocktail shaker with the lime juice, 100ml pineapple juice and a handful of ice. Shake together until the outside of the shaker feels cold. Strain into the glasses, add extra ice cubes and divide 650ml pineapple juice and the tonic water between the glasses.
Source: https://www.bbcgoodfood.com/recipes/shine-light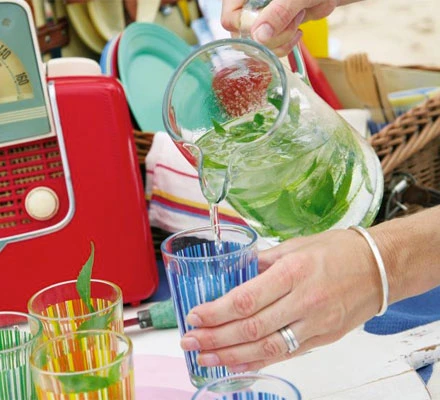 Apple, elderflower and mint sparkle
Ingredients
75ml elderflower cordial
1L apple juice
Mint leaves, small handful, roughly chopped
1L sparkling water
Method
For a grown-up non-alcoholic drink, mix elderflower cordial with cloudy apple juice. Add a small handful mint leaves, stir well, then pour into a chilled flask.
At the picnic, pour half glasses of the juice and top up with sparkling water.
Source: https://www.bbcgoodfood.com/recipes/apple-elderflower-mint-sparkle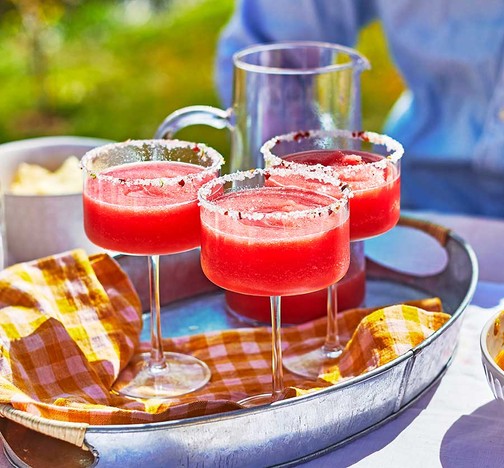 Cranberry Spritz  
Ingredients
100ml cranberry juice
½ orange, juiced
6 sage leaves
around 4 ice cubes
80ml sparkling white grape juice
Method
Pour 50ml cranberry juice into two champagne coups or wine glasses. Divide the orange juice between them, then stir.
Add 3 sage leaves and an ice cube or two to each glass, then top up with the sparkling grape juice.
Source: https://www.bbcgoodfood.com/recipes/cranberry-spritz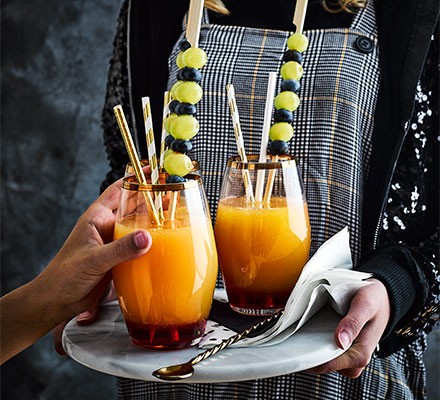 Fruity mocktail
 Ingredients
Green grapes, handful
Blueberries, handful
4 tbsp grenadine
300-400ml orange juice
Sparkling water, to top up
Plus
4 bamboo skewers
Method
Thread the grapes and blueberries onto the skewers to make stirrers.
Pour the grenadine into four glasses. Gently tip the glasses and pour the orange juice down the inside of the glasses so it sits on top of the grenadine. Top up with sparking water, and add the stirrers to serve.
Source: https://www.bbcgoodfood.com/recipes/fruity-mocktail
Don't forget…
You can also add a shot (or more) of gin, vodka, tequila or rum to turn these mocktails into cocktails!
Have your own mocktail recipes that you love? Don't forget we have a large selection of drinks available for delivery so you have everything you need in the fridge ready to use at your next summer soiree.
Why not add a few drinks to your next Doorstep Delivery?
Diet coke
Lemonade
Orange juice
Apple juice
Cranberry juice
Pineapple juice
Fruit juices (including beetroot and tomato)
Spiced ginger, ginger beer and lemon refresher
Still water
Sparking water
Milkshakes