When it comes to blue cheese, many of us will indulge in and love the distinctive flavour, while some people will quickly disagree, however, this pungent salty and sharp-tasting cheese adds colour and flavour to any meal or cheeseboard, and shouldn't be overlooked.
Though, if want to try it for the first time and you're struggling with how to incorporate blue cheese into your meals or if you need new ways to enjoy this marbled delight, then check out these simple ideas.
Salads
Forget the feta, it's time to bring your salad to life with a sprinkling of blue cheese to add tang to what is usually considered a simple meal. Blue cheese complements a range of salads including watermelon and cucumber salad, watercress and pecan salad, potato salad and even a Caesar salad.
Dessert
This may sound a little more obscure than the other ideas, however blue cheese typically pairs well with sweet ingredients such as honey, dried fruit, apples, figs and walnuts, meaning it would complement a dessert very well. Next time you make a pecan or pear pie sprinkle the top with blue cheese. You can also find numerous recipes for a blue cheese cheesecake, with the cheese incorporated into the cream cheese filling!
If you want to ease your taste buds in slowly, why not try this easy blue cheese-stuffed strawberry recipe for an alternative to the traditional chocolate strawberries?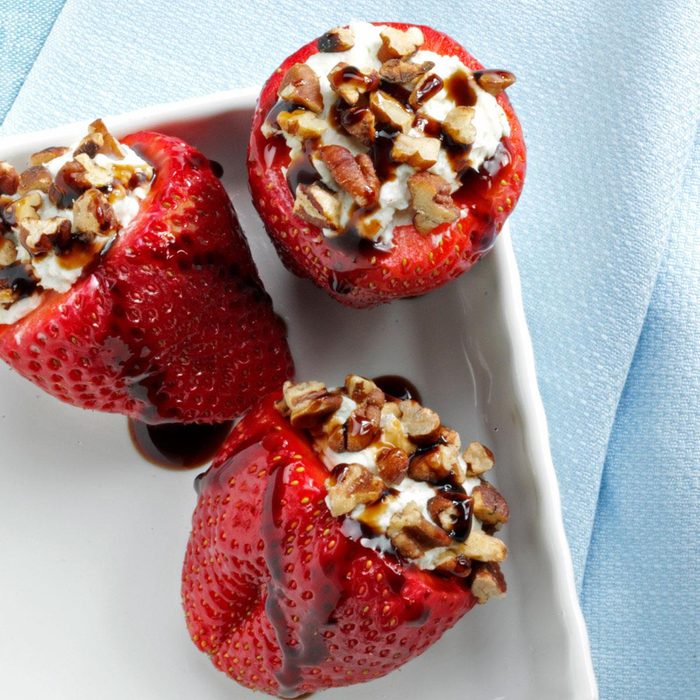 Ingredients
½ cup balsamic vinegar
3 ounces fat-free cream cheese
1/2cup crumbled blue cheese
16 large fresh strawberries
3 tbsp pecans, toasted, finely chopped
Method
Place vinegar in a small saucepan. Bring to a boil; cook until liquid is reduced by half. Cool to room temperature.
Meanwhile, in a small bowl, beat cream cheese until smooth. Beat in blue cheese. Remove stems and scoop out the center of the strawberries; fill each with about 2 tsp cheese mixture. Sprinkle pecans over filling, pressing lightly. Chill until serving. Drizzle with balsamic vinegar.
Source: www.tasteofhome.com/recipes/blue-cheese-stuffed-strawberries/
Dip
A nice thick blue cheese dip goes well with all manner of snacks and other dishes. Celery sticks, tomatoes, carrot sticks, even plain crisps or tortilla chips!
Make a simple dip using mayonnaise, crème fraîche, white wine vinegar and Worcestershire sauce to try it for yourself. Alternatively, sour cream, mayonnaise, parsley, lemon juice, salt and pepper, with a good helping of cheese, is a delicious dip.
Ingredients
300g soured cream or crème fraîche
100g mayonnaise
150g blue cheese, crumbled
1 tbsp white wine vinegar
1 tsp Worcestershire sauce
1 head celery, cut into batons
Method
In a medium-sized bowl, mix the soured cream, mayonnaise, blue cheese, white wine vinegar, Worcestershire sauce and some seasoning. Pour into a serving bowl and use as a dip for the celery sticks.
Source: www.bbcgoodfood.com/recipes/celery-sticks-blue-cheese-dip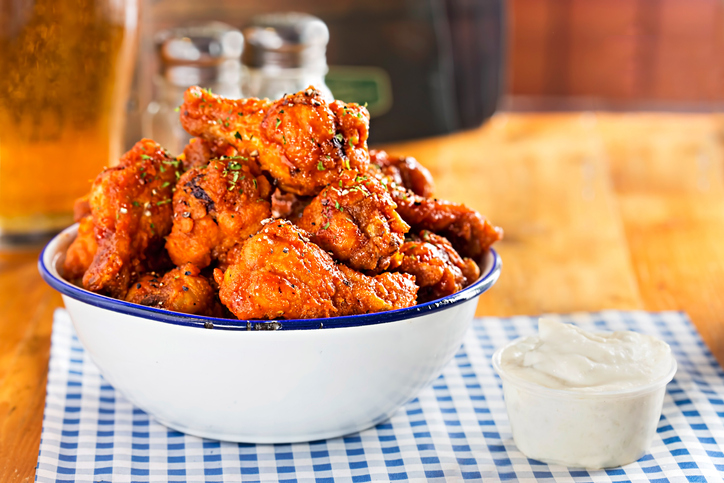 Blue cheese and buffalo sauce
If you love hot sauce on your food then buffalo sauce and blue cheese is a combo that you can't overlook. Enjoyed by many, the rich, spicy buffalo sauce pairs with the tangy, salty blue cheese creating a mouth-watering mixture. Not for the faint of heart, this pairing is usually common place with chicken wings or bites.
Coleslaw
A popular side to any meal, many people stick to the simple recipe that involves cabbage, carrots, mayo, salt, and pepper, although some people might add onions, lemon juice, honey or mustard. So, mixing up your coleslaw with blue cheese could really give this side dish a kick.
If you're wondering about the best way to incorporate blue cheese into your coleslaw, there are a few ways, although this recipe, which also adds includes bacon, is a great way to try it for the first time.
Ingredients
8 bacon slices, chopped
¾ cup mayonnaise
2 tbsp red wine vinegar
1 tbsp honey
16 ounces chopped cabbage, carrot, onion
1 cup crumbled blue cheese
Method
Cook bacon in large skillet until crisp. Using a slotted spoon, transfer bacon to paper towels.
Whisk mayonnaise, vinegar, and honey in large bowl. Stir in chopped cabbage, carrot and onion, cheese, and bacon. Season with salt and pepper and toss to coat. Cover and chill.
 Source: www.bonappetit.com/recipe/blue-cheese-coleslaw-2
Garlic bread
It may not seem like the obvious choice, but adding blue cheese to your homemade garlic bread can be a game changer. Garlic and blue cheese pair nicely together, and as long as the bread isn't overpowering the cheese, they can create a taste sensation in your mouth.
If all this talk of cheese has got you in the mood for a cheesy dinner, then be sure to add blue cheese to your next Doorstep Delivery!