With spring just a few weeks away, it's time to get excited about banishing the extra layers (and cold weather!), putting away the slow cooker, forgetting the stews and pies, and instead opting for the scrumptious delights that spring has to offer.
As the flowers start to bloom, and strawberries and apricots come into season, the recipes to be enjoyed are endless. Colourful displays incorporating your favourite fruits and vegetables are a must-have at this time of year, and we've picked out a selection of tasty sweet treats that we know you'll enjoy making – and even more so eating!
Plus, if you bake any of these delicious bakes, be sure to share them with us on Facebook or Twitter! We can't wait to see your baked creations.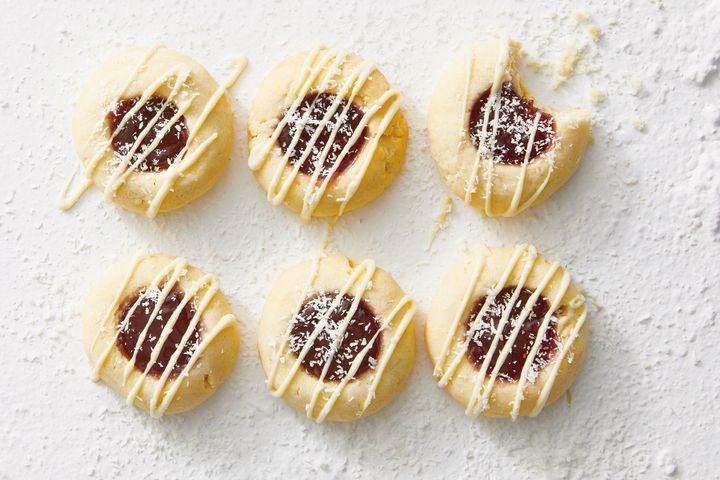 Jam Cheesecake Cookies
Ingredients
125g cream cheese, at room temperature, chopped
125g unsalted butter, at room temperature, chopped
155g caster sugar
2 tsp vanilla extract
250g plain flour, plus extra, for dipping
155g strawberry jam
75g white chocolate, melted
2 tsp desiccated coconut
Method
Pre-heat oven to 160C/140C fan. Line 2 baking trays with baking paper. Use electric beaters to beat the cream cheese, butterand sugar in a bowl until pale and creamy. Beat in the vanilla. Use a spatula to fold in the flour until just combined.
Roll level tablespoonfuls of mixture into balls. Place on prepared trays. Dip your thumb in flour and use to make a 2.5cm indent in each biscuit. Place a spoonful of jamin each indent. Bake the biscuits for 15 minutes or until light golden underneath (biscuits will still be pale on top). Allow to cool, on trays, for 5 minutes before transferring to a wire rack to cool completely.
Drizzle cookies with melted chocolateand sprinkle with coconut.
Source: https://www.taste.com.au/recipes/jam-cheesecake-cookies-recipe/5b3gkgna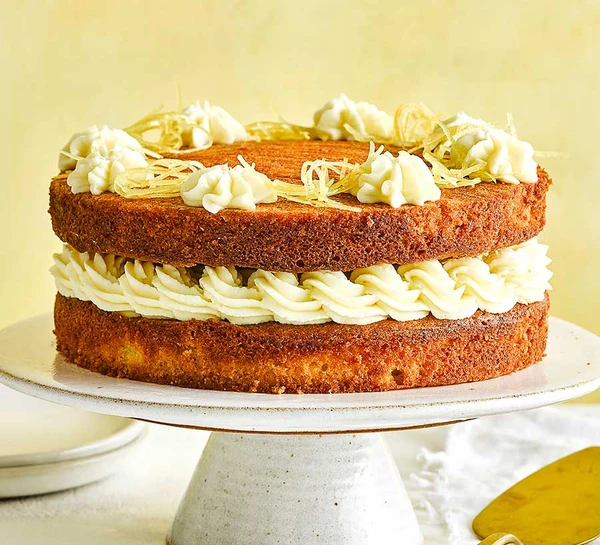 Lovely lemon layer cake
Ingredients
225g unsalted butter, softened
225g caster sugar
4 large eggs
225g self-raising flour
1 tsp baking powder
75g natural yogurt
1 tsp vanilla bean paste or extract
3 lemons, zested
For the drizzle
150g granulated sugar
3 lemons, zest of 2 pared into strips, juiced (you'll need 60ml)
For the icing
150g unsalted butter, softened
150g icing sugar, sieved
1 tsp vanilla bean paste or extract
300g full-fat soft cheese
Method
Heat the oven to 180C/160C fan/gas 4 and line the base of two 20cm sandwich tins with baking parchment. Beat the butter and sugar together for 3 mins using an electric whisk until smooth and fluffy. Add the eggs, one at a time, beating well between each addition and scraping down the sides of the bowl. Fold in the flour and baking powder until well incorporated, then fold in the yogurt, vanilla and lemon zest. Divide between the tins and bake for 30-35 mins until golden and a skewer inserted into the middles comes out clean.
Meanwhile, make the drizzle. Tip the sugar, lemon juice and 100ml water into a small pan set over a medium heat and stir until dissolved. Add the lemon zest, bring to the boil and simmer for 2-3 mins until the zest has softened and the liquid is syrupy. Remove the zest to a sheet of baking parchment using a slotted spoon, and remove the syrup from the heat.
Leave the sponges to cool for 10 mins in the tins, then pour over the warm drizzle. Leave to cool completely.
For the icing, beat the butter and icing sugar together using an electric whisk for 4-5 mins until smooth, scraping down the sides of the bowl as you go. Add the vanilla and soft cheese and beat for 4 mins more until thick and creamy. Don't worry if it doesn't look thick at first – it will loosen, then thicken again as you beat it.
Remove the cooled sponges from the tins. Spoon the icing into a piping bag fitted with a star nozzle. Put one sponge on a cake stand or serving plate, and pipe just under half the icing around the edge using a circular motion for a wavy effect. Pipe a little more icing over the empty middle (this doesn't need to be neat) and smooth with the back of a spoon. Chill for 45 mins-1 hr until set. Top with the second sponge, then pipe eight blobs of icing around the edge at regular intervals, leaving a gap between each. Spoon the candied lemon zest into each gap, then serve.
Source: https://www.bbcgoodfood.com/recipes/lemon-layer-cake-with-soft-cheese-icing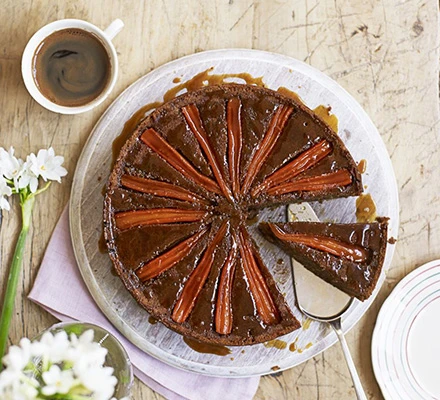 Bunny Carrot Cake
Ingredients
For the caramelised carrots
225-250g small or baby carrots, peeled and halved lengthways
juice 1 orange (from cake ingredients)
25g butter
4 tbsp light soft brown sugar
200g light soft brown sugar, plus 3 tbsp
150ml light rapeseed oil (we used Cooks & Co with natural butter flavour), plus extra for greasing
100g natural yogurt , plus extra to serve (optional)
3 large eggs
2 tsp vanilla extract
zest 3 oranges, juice of 2 (save juice of last orange for the carrots, below)
300g self-raising flour
1 tbsp mixed spice
1 tsp ground cinnamon
250g coarsely grated carrot
crème fraîche , to serve (optional)
Method
First, make the caramelised carrots. Put the carrots in a saucepan so they can sit in just about a single layer. Add the orange juice, butter, sugar and enough water to cover the tops of the carrots by just 1cm. Bring to the boil, then cook until the water has almost evaporated and the carrots are left in a sticky syrup – you may want to reduce the heat if the liquid looks more syrupy, and go a little slower at the end so the carrots don't catch. Can be made up to 1 day ahead.
Heat oven to 160C/140C fan/gas 3. Grease a 23cm cake tin. Lift the candied carrots from the pan and syrup, and arrange in the base of the tin, cut-side down. Keep the pan and syrup for later.
Whisk together the 200g brown sugar, the oil, yogurt, eggs, vanilla and zest from 2 oranges. Mix the flour, mixed spice, cinnamon and grated carrot in a big mixing bowl. Stir in the whisked mixture until smooth, then spoon over the carrots in the tin – be careful not to dislodge their arrangement too much. Bake for 45-50 mins until a skewer poked in comes out clean. Cool in the tin for 20 mins.
Meanwhile, add the orange juice to the syrup pan with the 3 tbsp brown sugar. Simmer together until slightly reduced, then stir in the remaining zest.
Turn the cake out onto a plate and spoon over the syrup. Eat just warm or at room temperature with more yogurt or crème fraîche.
Source:  https://www.bbcgoodfood.com/recipes/bunny-carrot-cake