Make your Easter Sunday celebration one to remember!
If you are planning a big family celebration dinner over the Easter weekend, don't forget we also have a great range of fresh fruit and vegetables to order - you can add them to your delivery and save yourself a trip to the local supermarket!
If you are feeling a little more adventurous how about giving this amazing, Cadbury Creme Egg Cheesecake a try? Most of the ingredients are also available to order from our website.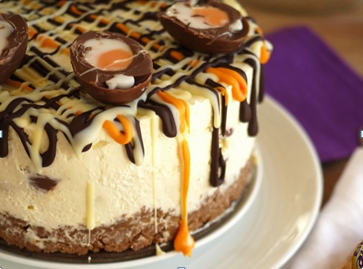 Ingredients
For the base
300g chocolate digestive biscuits
150g unsalted butter
For the cheesecake
600ml double cream
150g icing sugar
560g cream cheese (2x 280g pots)
½ lemon (just the juice)
267g Mini Cadburys Creme Eggs (3x 89g bags - unwrapped and cut into quarters)
To decorate
3 Cadburys Creme Eggs
150g white chocolate
75g milk chocolate
yellow gel food colouring
You will need:
Disposable piping bags for a really neat chocolate drizzle on top
7" cake tin with removable bottom
Method:
Finely crush the biscuits
Melt the butter, mix in with the crushed biscuits and press into a cake tin with removable bottom
Beat the double cream with the icing sugar until it forms soft, floppy peaks
Very gently fold the cream cheese, lemon juice and chopped mini Creme Eggs into the cream until everything is combined - you can add more lemon juice if you prefer a stronger flavour
Top the biscuit base and level out
Leave to firm up in the fridge for at least 3 hours or overnight
Remove from the tin by running a slim, sharp knife around the edge and popping it out
Melt your milk chocolate, allow to cool for 5 minutes and then drizzle over the top
Melt your white chocolate, allow to cool for 5 minutes and drizzle half over the top
Colour the remaining half of the white chocolate with a little yellow gel colour and drizzle over the top
Unwrap and cut the remaining Creme Eggs in half - sit on top to decorate
Tip
The Creme Eggs are easier to cut if you've stored them in the fridge for a couple of hours to firm up!
We're pleased to tell you that you don't need to worry about your delivery dates being changed over the Easter weekend - all deliveries will be made as normal!
Everyone here at the dairy wishes you a very Happy Easter.