With spring finally here and Easter on its way, the Bank Holiday weekend is going to be one filled with family, friends and food! So, put on a spread to remember with this delicious menu of Easter favourites.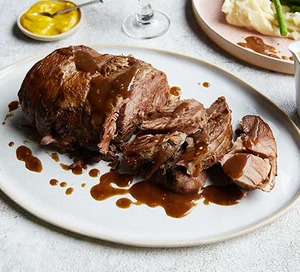 Slow cooker leg of lamb
Ingredients
2 tbsp olive oil
1.3kg boneless leg of lamb, tied
30g unsalted butter
2 tbsp plain flour
300ml lamb stock
200ml red wine
2 red onions, cut into wedges
2 garlic cloves, sliced
5 sprigs of thyme
5 sprigs of rosemary
mashed potatoes and steamed veg, to serve
Method
Heat the oil in a large non-stick frying pan. Add the lamb and brown on each side for 4-5 mins. Set the slow cooker to low. Melt the butter in a saucepan until foaming, then stir through the flour. Whisk in the stock gradually until incorporated, add the wine and bring to the boil. Set aside.
Put the onion, garlic, thyme and rosemary into your slow cooker and sit the lamb on top. Pour over the lamb gravy. Put the lid on and cook for 8 hrs or until soft and tender.
Remove the lamb and set, covered, on a plate. Strain the liquid into a pan and simmer until slightly thickened. Serve the lamb thickly sliced or shredded (it'll be quite soft) with mashed potatoes, green veg and the gravy.
Source: https://www.bbcgoodfood.com/recipes/slow-cooker-leg-lamb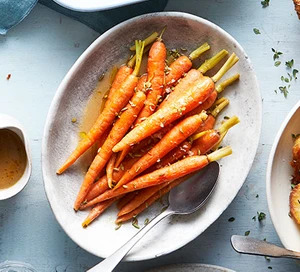 No-peel braised carrots
Ingredients
300ml vegetable stock
300g baby topped carrots
2 tbsp butter
1 tsp caster sugar
1 tsp fennel seeds, crushed
Method
Heat the vegetable stock, then tip the carrots into a deep-frying pan. Add the butter, sugar, fennel seeds and the hot stock. Season to taste.
Simmer, uncovered, over a medium heat for 25-30 mins or until the carrots are cooked through and the liquid is reduced and glossy.
Source: https://www.bbcgoodfood.com/recipes/no-peel-braised-carrots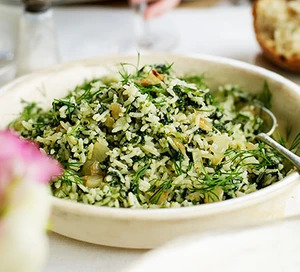 Spinach rice
Ingredients
100ml Greek extra virgin olive oil
1 onion, finely chopped
500g baby spinach leaves, washed and finely chopped
bunch dill, finely chopped
300g long-grain rice
juice 1-2 lemons
Method
Heat the oil in a large pan, add the onion and gently cook until softened but not coloured. Add the spinach and half the dill. Cook on a high heat, stirring regularly, until the spinach has wilted down and all the liquid has evaporated.
Stir in the rice and add 600ml water, then bring to the boil. Turn the heat right down again to a very gentle simmer, cover the pan with a tight-fitting lid and cook for 25-30 mins or until the rice has cooked and absorbed all the water. Give it a stir after 15 mins to ensure even cooking, adding a drop more water as required.
When the rice is cooked, stir in the remaining dill, season well, squeeze over the lemon juice to taste, and serve.
Source: https://www.bbcgoodfood.com/recipes/spinach-rice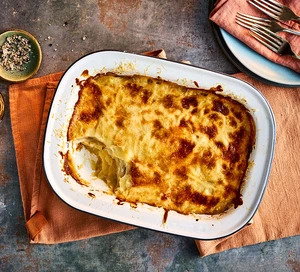 Scalloped potatoes
Ingredients
50g unsalted butter, plus extra for the dish
1 onion, thinly sliced
2 garlic cloves, chopped
50g plain flour
500ml whole milk
250ml chicken or vegetable stock
1kg potatoes, thinly sliced (use a mandoline for the best results)
75g parmesan, finely grated
Method
Heat the oven to 180C/160C fan/gas 4 and butter a deep 20 x 30cm baking dish. Melt the butter in a pan over a medium heat and cook the onion and garlic with a pinch of salt for 8-10 mins until the onion has softened slightly. Tip in the flour, stir well, then cook for a few minutes more. Mix the milk and stock together, then gradually pour this in, whisking well between additions until everything is incorporated and you have a smooth sauce. Simmer for a few minutes, then season well.
Lay half the sliced potatoes in a single layer in the buttered dish, slightly overlapping them if needed. Pour over half the sauce, then scatter over half the parmesan. Arrange the remaining potatoes on top, then pour over the remaining sauce and scatter with the remaining parmesan. Cover with foil and bake for 1 hr, then remove the foil and bake for another 30 mins until golden on top.
Source: https://www.bbcgoodfood.com/recipes/scalloped-potatoes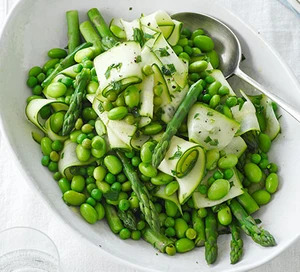 Spring vegetables
Ingredients
2 large courgettes, sliced into ribbons with a vegetable peeler
juice 1 lemon
200g asparagus spears, washed and trimmed
100g frozen peas
100g frozen broad beans
1 tbsp extra virgin olive oil
small pack parsley, roughly chopped
Method
Put the courgette ribbons in a large bowl with a pinch of salt and the lemon juice.
Bring a large saucepan of water to the boil and cook the asparagus for 2 mins, adding the frozen peas and broad beans for the final min. Drain well, pod the broad beans and toss together with the courgette ribbons. Drizzle over the olive oil, sprinkle on parsley and season to taste.
Source: https://www.bbcgoodfood.com/recipes/warm-spring-vegetables
SWEET EXTRAS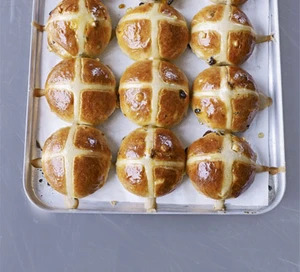 Hot cross buns 
Ingredients
For the buns
300ml full-fat milk , plus 2 tbsp more
50g butter
500g strong bread flour
1 tsp salt
75g caster sugar
1 tbsp sunflower oil
7g sachet fast-action or easy-blend yeast
1 egg , beaten
75g sultanas
50g mixed peel
zest 1 orange
1 apple, peeled, cored and finely chopped
1 tsp ground cinnamon
For the cross
75g plain flour, plus extra for dusting
For the glaze
3 tbsp apricot jam
Method
Bring 300ml full-fat milk to the boil, then remove from the heat and add 50g butter. Leave to cool until it reaches hand temperature. Put 500g strong bread flour, 1 tsp salt, 75g caster sugar and 7g sachet fast-action or easy-blend yeast into a bowl. Make a well in the centre. Pour in the warm milk and butter mixture, then add 1 beaten egg. Using a wooden spoon, mix well, then bring everything together with your hands until you have a sticky dough.
Tip on to a lightly floured surface and knead by holding the dough with one hand and stretching it with the heal of the other hand, then folding it back on itself. Repeat for 5 mins until smooth and elastic. Put the dough in a lightly oiled bowl. Cover with oiled cling film and leave to rise in a warm place for 1 hr or until doubled in size and a finger pressed into it leaves a dent.
With the dough still in the bowl, tip in 75g sultanas, 50g mixed peel, zest of 1 orange, 1 finely chopped apple and 1 tsp ground cinnamon. Knead into the dough, making sure everything is well distributed. Leave to rise for 1 hr more, or until doubled in size, again covered by some well-oiled cling film to stop the dough getting a crust.
Divide the dough into 15 even pieces (about 75g per piece). Roll each piece into a smooth ball on a lightly floured work surface. Arrange the buns on one or two baking trays lined with parchment, leaving enough space for the dough to expand. Cover (but don't wrap) with more oiled cling film, or a clean tea towel, then set aside to prove for 1 hr more.
Heat oven to 220C/200C fan/gas 7. Mix 75g plain flour with about 5 tbsp water to make the paste for the cross – add the water 1 tbsp at a time, so you add just enough for a thick paste. Spoon into a piping bag with a small nozzle. Pipe a line along each row of buns, then repeat in the other direction to create crosses. Bake for 20 mins on the middle shelf of the oven, until golden brown.
Gently heat 3 tbsp apricot jam to melt, then sieve to get rid of any chunks. While the jam is still warm, brush over the top of the warm buns and leave to cool.
Source: https://www.bbcgoodfood.com/recipes/hot-cross-buns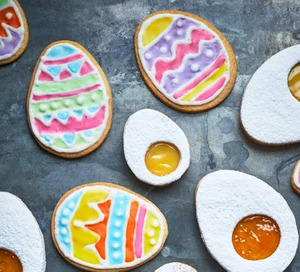 Easter biscuits
Ingredients
300g plain flour, plus extra for dusting
150g white caster sugar
150g slightly salted butter, chopped
1 large egg
2 tsp vanilla extract or vanilla bean paste
For the iced option
500g royal icing sugar
your favourite food colouring gels
For the jammy middle
Icing sugar, for dusting
400g apricot jam, or lemon curd
Method
Weigh the flour and sugar in a bowl. Add the butter and rub together with your fingertips until the mixture resembles wet sand, with no buttery lumps. Beat the egg with the vanilla, then add to the bowl. Mix briefly with a cutlery knife to combine, then use your hands to knead the dough together – try not to overwork the dough, or the biscuits will be tough. Shape into a disc, then wrap in cling film and chill for at least 15 mins. Heat oven to 180C/160C fan/gas 4. Line two baking sheets with baking parchment.
Dust a work surface with flour. Halve the dough, then roll one half out to the thickness of a £1 coin. Use an egg-shaped cookie cutter (ours was 10cm long; you could also make a cardboard template to cut around) to stamp out as many cookies as you can, then transfer them to one of the baking sheets, leaving a little space between the biscuits. Repeat with the other half of the dough. If you want to make jammy biscuits, use a small circular cutter to stamp holes in half of the biscuits (where the yolk would be). If you intend to make both iced and jammy biscuits, only stamp holes in a quarter of the biscuits.
Bake for 12-15 mins, until the biscuits are pale gold. Cool on the sheets for 10 mins, then transfer to a wire rack to cool fully. Once cool, decorate to your liking (see next steps). Will keep in an airtight container for up to five days.
To decorate the biscuits with icing, add enough water to the icing sugar to make a thick icing – it should hold its shape without spreading when piped. Transfer about a third of the icing to a piping bag fitted with a very small round nozzle (or just snip a tiny opening at the tip). Pipe an outline around the biscuits, then draw patterns in the middle – lines, spots and zigzags work well. Leave to dry for 10 mins. Divide the remaining icing between as many colours as you'd like to use, then use the gels to dye them. Loosen each icing with a few drops of water, then transfer them to piping bags. Use the coloured icing to fill the empty spaces on the biscuits. You may need to use a cocktail stick to tease it into the corners. Once covered, leave to dry for a few hours.
To make the jammy middle biscuits, dust the biscuits with holes in the middle with a heavy coating of icing sugar. Spread the jam or curd generously over the whole biscuits, then sandwich the dusted biscuits on top of them.
Source: https://www.bbcgoodfood.com/recipes/iced-easter-biscuits