Spring is finally starting to bring the warm & sunny weather and this can only mean it's BBQ time!
Did you know that as well as stocking dairy, bakery and many household essentials, we also have a great range of barbecue supplies to ensure that you're summer ready whenever the mood takes you!
Our range includes lumpwood charcoal, barbecue briquettes, instant barbecues and lighting fluid to get the barbecue started as well as a great range of James White juices and other soft drinks to keep your guests happy and hydrated.
Ordering is easy!
You can view our barbecue essentials, ready to order from our website for doorstep delivery only.  We will deliver your items in with your next regular milk delivery.
If you are looking for a show stopping side dish for you BBQ this summer then take a look at this fantastic potato salad with bacon and egg.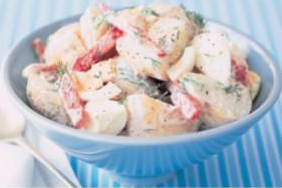 Ingredients
1.5kg new potatoes
4 eggs, preferably free range
2 teaspoons olive oil
200g bacon rashers, trimmed, cut into thin strips
2/3 cup (170g) whole egg mayonnaise
1/2 lemon, juiced
1/3 cup chopped fresh dill
Salt & freshly ground pepper
Method

Place the potatoes in a large saucepan and cover with plenty of cold water. Bring to the boil. Boil for 10-15 minutes or until tender. Drain well and set aside to cool.
Meanwhile, place the eggs in a small saucepan and cover with cold water. Bring to the boil. Reduce heat to medium and boil for 3 minutes. Peel eggs.
Heat the oil in a frying pan over a medium heat. Add the bacon and cook, stirring for 7-8 minutes or until golden. Drain well on paper towel.
Whisk the mayonnaise, lemon juice, dill, salt and pepper together. Cut the potatoes into halves or quarters. Chop the eggs.
Place the potatoes, bacon and dressing in a bowl. Toss gently to combine. Add the egg and toss to combine. Serve.
Many of the ingredients, as well as your charcoal and lighter fluid, can be found in our online shop here and what's even better is that they can be delivered directly to your door!
Make sure you are cooking safely with these simple tips from the Food Standards Agency!
Did you know that cases of food poisoning almost double during the summer, and research shows that the undercooking of raw meat and the contamination of bacteria onto the food we eat are among the main reasons.
It never hurts to be too careful when it comes to barbecues and food safety. If you want to serve up a sensational barbecue, following a few simple steps can help avoid the build-up of food poisoning bugs.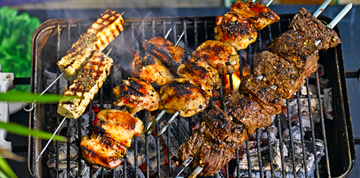 Pre-cook - It's a very good idea to cook all chicken (including chicken on the bone) in the oven prior to giving it a final 'finish' on your barbecue. Your friends and family will still experience that special barbecue 'scorched' taste – and you will know that you've cooked the chicken all the way through. This technique can also be used for sausages, burgers and kebabs if you're cooking for large numbers, as you'll want to avoid providing undercooked food.
Charred doesn't mean cooked - Cook your barbecue food thoroughly until you are sure that your poultry, pork, burgers, sausages and kebabs are steaming hot, with no pink meat inside. Turning meat regularly and moving it around the barbecue will help to cook it evenly. Charred on the outside doesn't always mean cooked on the inside so, it's always safer to cut open and check your burgers, sausages and chicken. If in doubt – keep cooking.
Disposable BBQs take longer - Disposable BBQs take longer to heat up and to cook food. Always check that your meat is cooked right through before serving.
Avoid cross-contamination - Store raw meat separately before cooking, use different utensils, plates and chopping boards for raw and cooked food. Always wash your hands thoroughly with soap and hot water and dry them before handling your food for the barbecue and after handling raw foods including meat, fish, eggs and vegetables.
Don't wash raw chicken - Don't wash raw chicken or other meat, it just splashes germs. Cooking will kill any bacteria present, including campylobacter. On the other hand, washing chicken, or other meat, can spread dangerous bugs on to your hands, clothes, utensils and worktops by splashing.
Keep plates and cutlery away from raw meat and fish - Keep plates and cutlery away from raw meat and fish, never serve your guests cooked food on a plate or surface that's had raw meat or fish on it, and don't use cutlery or marinades that have been in contact with raw meat. There's no point in serving up food with a flourish if you're adding bugs back into the mix.
Now there is no excuse - all you have to do is send out the invites and place your order for supplies today then bring on the barbecue!