Easter is all about three things; family, friends, and food! Okay, so it's not just about these things, but they play an important part in our Easter celebrations.
Whether you celebrate Easter for its religious roots or you simply enjoy the sentiment of Easter, you're going to need a delicious cake recipe up your sleeve, ready for when your friends and family gather.
The Easter bunny may bring chocolate, but there's always room for cake!
Frosted White Chocolate Easter Cake
Ingredients
250g butter, plus a little extra for greasing
140g white chocolate, broken into pieces
250ml milk
1 tsp vanilla extract
250g self-raising flour, sifted
¼ tsp bicarbonate of soda
300g caster sugar
2 large eggs, lightly beaten
For the frosting
300g tub Philadelphia cheese
85g butter, softened
100g icing sugar, sifted
Cadbury's Mini Eggs to decorate (or use 50g/2oz chopped hazelnuts)
Method
Heat oven to 160C/Fan 140C/Gas 3. Grease a deep 23cm cake tin and line the base with greaseproof paper.
Place the butter, white chocolate, milk and vanilla extract in a small saucepan, then heat gently, stirring, until melted.
Combine the flour, bicarb and sugar in a large bowl with a pinch of salt, then stir in the melted ingredients and eggs until smooth.
Pour the batter into the tin, then bake for 1 hr, or until the cake is golden and a skewer inserted into the centre comes out clean. Cool in the tin. Once cool, the cake can be wrapped in cling film and foil, then frozen for up to 1 month.
To make the frosting, beat together the Philadelphia, butter and icing sugar until smooth. Spread over the cake, then decorate with mini eggs.
If you have little people helping you bake this Easter or if they will be coming to visit then we are sure these bunny biscuits will have them jumping for joy.
Bunny Cookies and Milk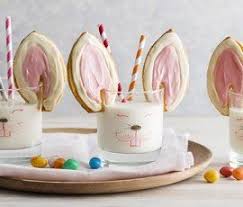 Ingredients
150g butter, softened
165g caster sugar
125ml sweetened condensed milk
1 egg
260g plain flour, sifted
150g self-raising flour, sifted
2 cups white chocolate chips, melted
2 tsp vegetable oil
1-2 drops pink food colouring
Milk, to serve
Method
Preheat oven to 180ºC/160ºC Fan. Grease and line two oven trays with baking paper.
Beat butter, sugar and sweetened condensed milk until creamy; add egg and beat until just combined. Refrigerate for 30 minutes.
Fold in sifted flours, mix to firm dough. Roll out dough between two sheets of baking paper to 5mm thickness. Using a template cut out ears (don't forget the slots for them to go on your glass!); place on prepared trays; bake for 15 minutes. Cool on trays.
Whilst cookies are cooling, using half of the melted chocolate chips; place into a piping bag and pipe the outer rim of ear. Place remaining white chocolate chips into a bowl with the oil and pink colouring.  Stir to combine; place into a clean piping bag and fill in the ear colour
Serve cookies in your favourite glass filled with milk and enjoy!
We're pleased to tell you that you don't need to worry about your delivery dates being changed over the Easter weekend - all deliveries will be made as normal!
Everyone here at the Dairy wishes you a very Happy Easter.