Is a feast without a finale of cheese, a feast at all?
Creating a cheeseboard can feel like a bit of treat but they are an excellent way to enjoy your favourites or incorporate new cheeses. Plus, you can use up what you've got to hand in the fridge and empty the cupboards of any leftover bits and bobs!
An all-round crowd-pleaser, the success of a great cheeseboard lies in the variety. Adding an assortment of flavours, colours and textures make for a stunning arrangement with something for everyone to enjoy.
Here's our easy guide to putting together a delicious cheese board, perfect for a decadent night in, or seasonal entertaining!
The cheeses
Choosing the cheeses for your board is probably the hardest part! It goes without saying that you should choose your favourites, but it's always good to have a variety of textures, tastes and styles to choose from. Go for 3 or 4 different cheese but if you're not fond of a particular type, double up on your favourites in slightly varying finishes.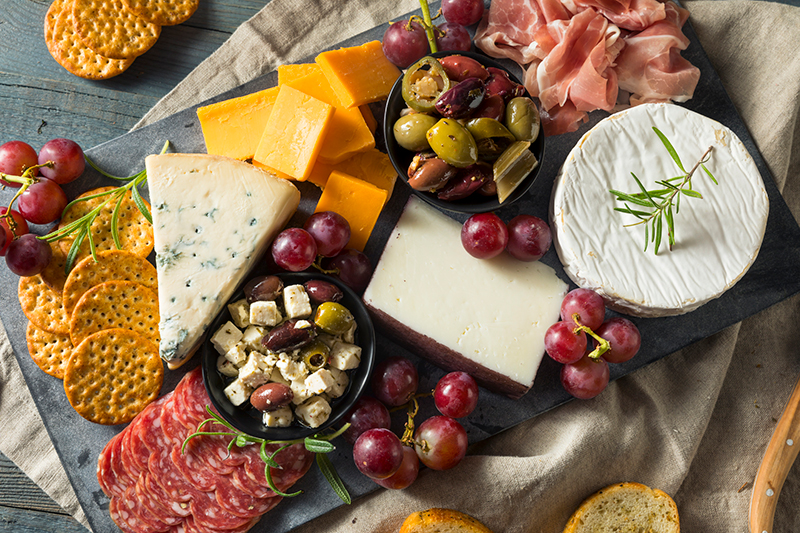 Aged – A hard aged cheese is typically cured for 6 months or more for sharp, strong and nutty flavours. These include Cheddar, Gruyere and Gouda.
Blue – Cheese with visible blue mould is cultivated for its sharp, pungent and salty flavours. These include Stilton, Gorgonzola and Dolcelatte. Try our Suffolk blue from Suffolk Farmhouse Cheeses for its creamy depth of flavour.
Firm – Semi-firm/firm varieties can add more savoury and texture profiles to your board. These include Manchego, Parmigiano-Reggiano and Edam. Try Suffolk gold from Suffolk Farmhouse Cheeses for its buttery, rich and creamy flavour.
Soft – Creamy, buttery and sometimes tangy, soft cheeses are delicious when crumbled or generously spread. These include Brie, feta and goat cheese. Try our smooth and creamy Suffolk brie or Fen Farm Baron Bigod for its award-winning creamy flavour and bloomy rind.
The meats
A match made in heaven, good charcuterie is a must for a great cheese board! Adding tons of flavour, spices and herbs, you won't need much to pack a punch!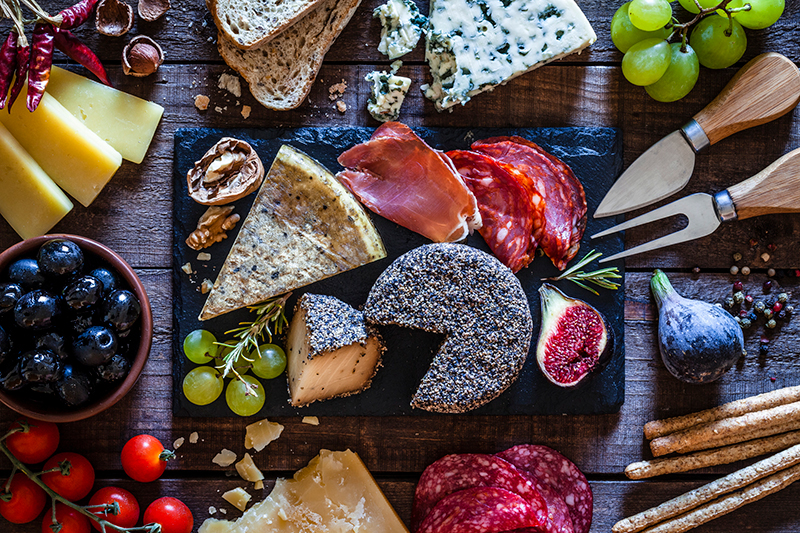 Cured meats - Salami and prosciutto are fantastic options, but anything you fancy or have in your fridge can work too! Roll up into scrolls or fold into halves and quarters to present.
Vegetarians & vegans – There are fantastic faux-meat versions around, or simply leave the meats off and let the cheese be the hero!
Crackers and bread
The vehicle for your cheese, meats and accoutrements, your choice of crackers and bread is just as important.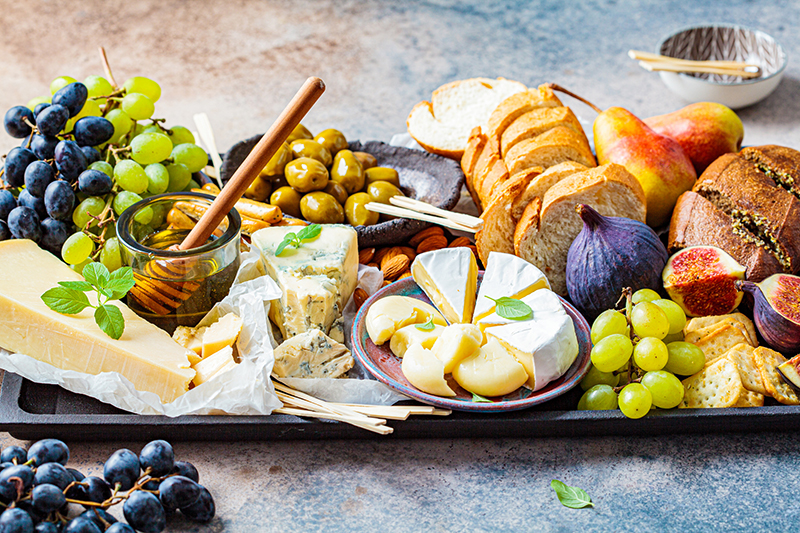 Crackers - Go for herbed, fruity, salted or peppered crackers to balance your cheeses. Or add sweet and savoury cheese biscuits, cheese straws or crostini to harmonise with big flavours.
Bread - More of a bread fan? There's nothing a crispy baguette doesn't go with! Slice into bruschetta-sized slithers, or go for a crunchy ciabatta or a fresh seeded loaf.
Condiments, dips and accoutrements
A great way to use up leftover jars at the back of your fridge, decant your selection into little dishes and dot around your board.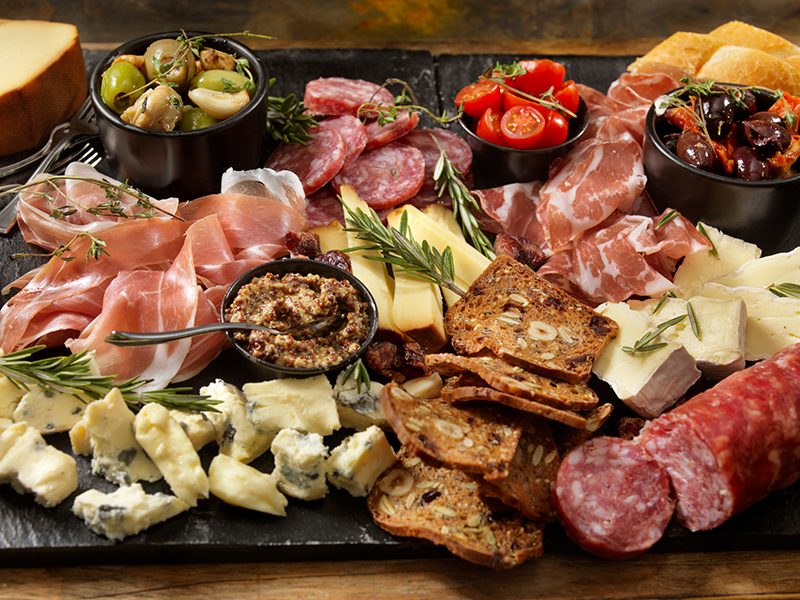 Condiments - Chutneys, pickles, relish, tapenade, piccalilli, honey, jellies and jam all work well. Fresh dips including hummus, beetroot, pea and squash all make a welcome addition for flavour and colour too.
Accoutrements – Fresh or jarred, try adding sun blushed tomatoes, roasted peppers, chillies, artichokes, cornichons, sweet pickled onions, kimchi and sauerkraut.
Olives – Green or black, whatever your preference; creamy, garlicky, salty or spiced olives each add their own flavour profile to your board.
Produce – The cold crunch of celery or warmth of radishes are brilliant with hard cheese and can be a welcome addition to your board.
Fruit, nuts and seeds
Not just for making your board look pretty, fruit, nuts and seeds are great for adding texture, crunch, sweet, salty and sharp flavours to harmonise or contrast with your cheeses.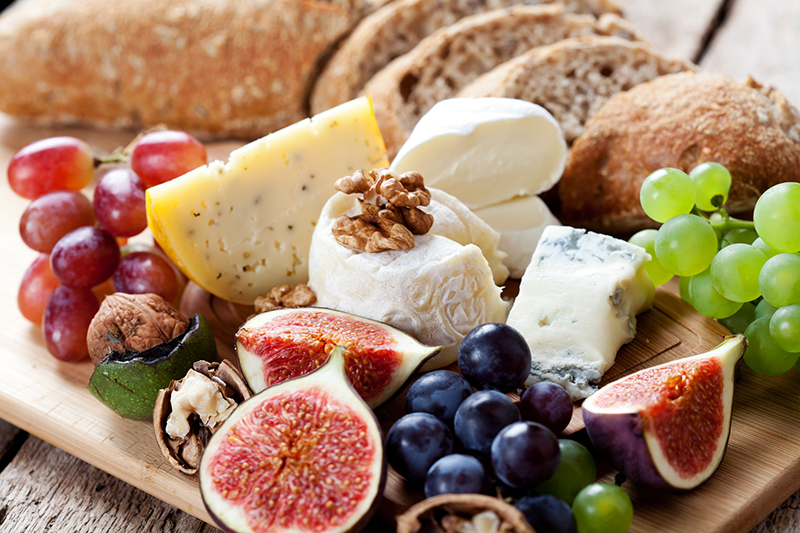 Fruit - Choose your fruit bowl favourites such as slithers of apple and pear or try adding sharp grapes, cranberries, sliced figs or sweet dates.
Nuts & seeds – Roasted, salted, candied or chocolate covered; nuts and seeds can all be a welcome accompaniment. Almonds, walnuts and pistachios are all delicious choices, a few little squares of good dark chocolate don't go amiss either!
Remember, cheese is best served at room temperature so take them out of the fridge before you begin assembly!
We love to see how creative our customers are, so please do share your cheeseboard creations with us by sending us a message or tagging us on Facebook!
Don't forget to add any ingredients you need to your next doorstep delivery or contact our Foulgers Dairy team to become a customer today!