Doesn't time fly! What a busy few weeks we have ahead, with Mother's Day on the 26th March and Easter just around the corner in April too!
Mother's Day falls on March 26th this year and there's plenty of advice and resources around on how to make your Mum's day special.
Mothering Sunday is the day to make sure all our mums are rewarded for their hard work throughout the year. If your mum lives in Suffolk and you haven't booked Mother's Day lunch yet, the The Suffolk Coast website, gives a fabulous selection of places to eat if you fancy heading to our magnificent coast for the day.
To set the day off to a cracking start we've got everything you need for bacon and eggs or, if Mum would prefer tea and toast for her breakfast in bed, you can order Tiptree Orange Marmalade, but don't forget the extra bread!
If you have Mum and perhaps the rest of the family coming round on Mother's Day why not make them a special treat to serve with afternoon tea? We think these fresh and floral, violet cream cupcakes are the perfect Spring treat and will remind everyone of a retro sweet favourite!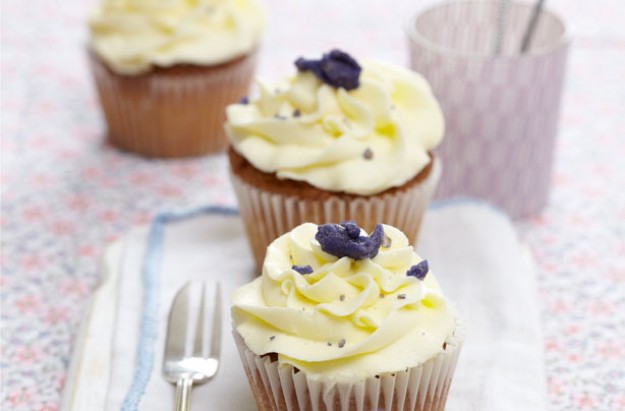 Ingredients
120g butter, softened
150g caster sugar
1 tsp vanilla extract
2 large eggs, room temperature
180g self-raising flour
125ml milk
1tbsp violet syrup
Violet butterceam
120g butter, softened
200g icing sugar, sifted
2 tsp vanilla extract
2 tbsp milk
1/2 tsp violet syrup
The cupcakes pictured have been decorated with candied violet petals but you can use any topping you like!
Method
To make this cupcake recipe, preheat the oven to 180°C/350°F/Gas Mark 4. Lightly grease and flour 2 25cm round cake tins.
Sift the flour and set aside. Stir the violet syrup into the milk, set aside.
Cream the butter and sugar until light and fluffy. Add the vanilla then the eggs one at a time, beating well between each addition.
Add half the flour and then half the violet milk and mix until fully combined. Repeat with the remaining flour and milk.
Divide the mixture into the prepared cake tins and bake for 35-45 mins or until a cocktail stick inserted into the centre of each cake comes out clean. Leave to cool for 20 mins then turn out onto a wire rack to cool completely.
To make the buttercream, cream the butter until smooth, gradually add the icing sugar and continue to cream until light and fluffy. Add the vanilla, milk and violet syrup. Cream until combined.
Use a piping bag fitted with a star nozzle to pipe the buttercream onto the cupcakes.
If you're thinking of surprising your mum with breakfast, lunch or supper at home, don't forget to amend your order in plenty of time to cater for an extra special Mother's Day treat!