Creamy, gooey and indulgent, the 60's cheese fondue celebrates communal eating at its finest. Not just for celebrations, a central bowl of hot melted cheese and an array of accompaniments makes for an excellent meal. Originally conceived to turn old ends of cheese and stale bread into something more substantial; the beauty of a fondue is you can use whatever you have in the fridge to dunk, and the recipe is so easy too!
We spotted Foulgers customer Caroline Goldsmith's (@goldcaro) cheese fondue recipe on Twitter. Made from Baron Bigod, a creamy, white bloomy-rind handmade cows milk cheese from Fen Farm Dairy in Bungay, we just had to have it!
Caroline kindly shared her recipe with us, for you all to try!
Suffolk & Swiss Cheese Fondue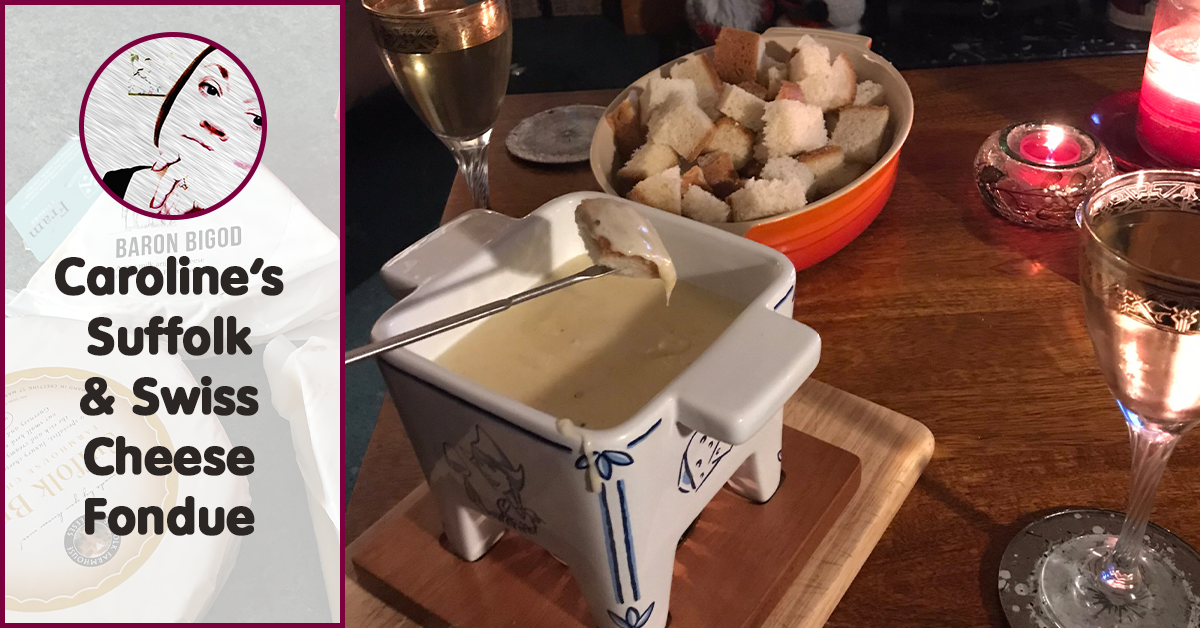 Ingredients (serves 2 or 4 as a starter):
200g Baron Bigod, rind removed and chopped into chunks
200g Gruyere or Emmental, grated
Half a pint of white wine
1 tsp lemon juice
1-3 tsps cornflower
Seasoning
Method:
Bring the white wine and lemon juice to a boil in a small non-stick pan over a medium heat. Add the chopped Baron Bigod and grated cheeses and stir gently as they melt. Now add the first tsp of cornflower (mixed with a little water) and allow it to thicken as you stir. The mixture should be gooey and glossy but you may need to add another one or two tsps of cornflower to thicken everything up. This will depend on the cheeses you use and the desired consistency. Add plenty of black pepper then serve immediately, decanted into a warm Pyrex dish or even better, a fondue pot suspended over a tealight. Use fondue forks or skewers to dunk your favourite accompaniments into the warm cheeses and enjoy!
Accompaniments: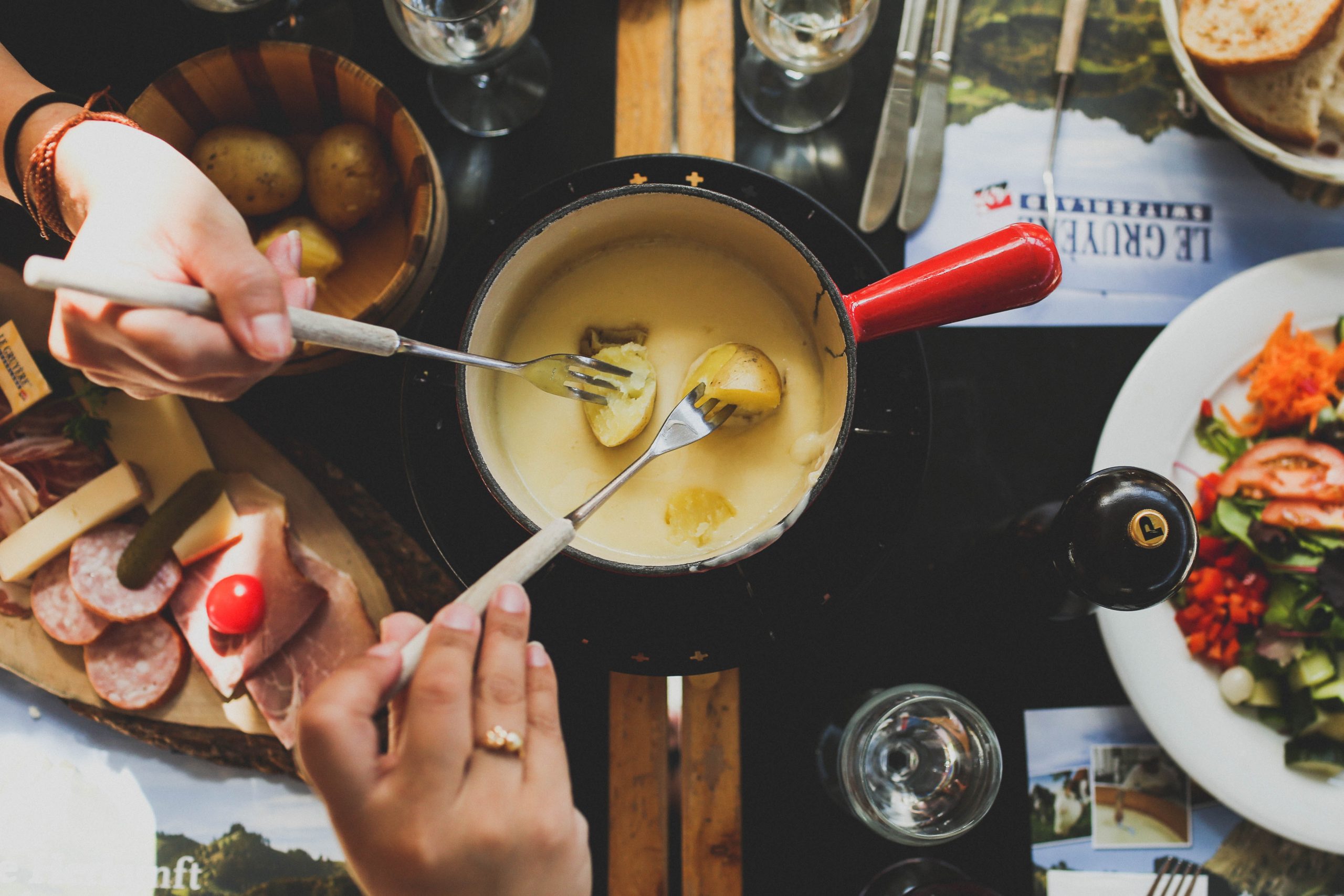 Melted cheese is especially good because frankly, it goes with most things! Caroline favours serving her fondue with warm crusty bread and chopped up raw veggies – a classic and delicious choice! Other delicious accompaniments include:
Warm crusty baguette or ciabatta, day old is best!
Raw carrots, celery, plum tomatoes, radishes, radicchio
Boiled or sautéed baby potatoes
Lightly steamed cauliflower and broccoli florets
Crunchy cornichons and silverskin onions
Mini or chopped up sausages
Cured meats such as pepperoni and salami
Thinly sliced apple or pear
Variations: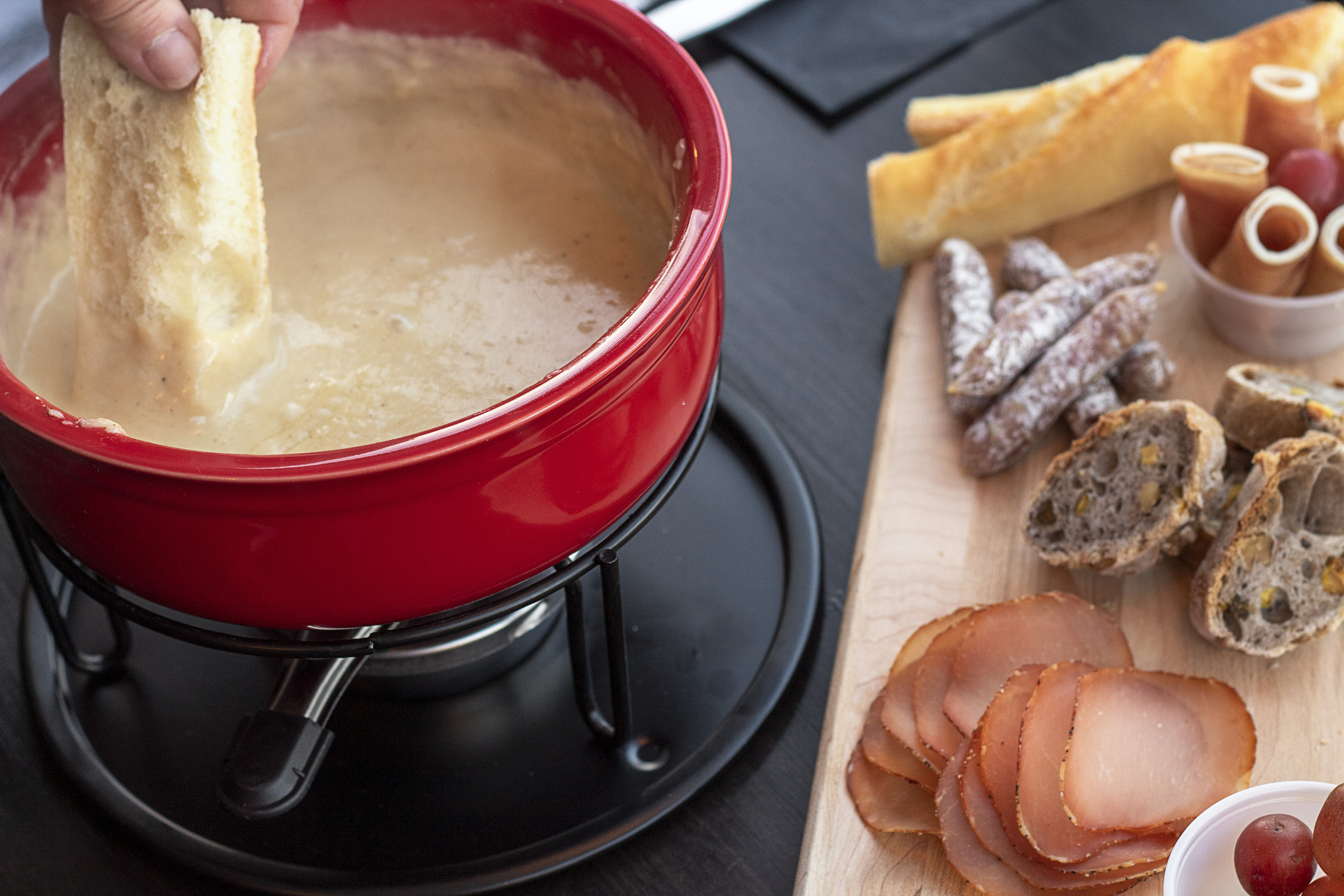 The beauty of the classic fondue recipe is that it will work with whatever ingredients are to hand. Although not strictly traditional, here are a few tried and tested variations that work well:
Any good quality cheese will work depending on your flavour preferences – just stick to the thirds or 50/50 rule. Try mixing a Swiss variety with buttery cheeses such as Brie, Camembert or sharp Cheddar; or for a classic Swiss go for a mix of Gruyere, Emmental, Fontina and Gouda.
Rub a garlic clove around the pot or dish before you decant the melted cheese for mellow garlicky-goodness without the pungent taste. Or, roast a couple of cloves of garlic in their skin before crushing with the back of a knife for a subtly sweet and infused aroma.
Add a pinch of cayenne pepper, half a tsp of dried mustard powder or a dollop of Dijon for a kick of heat!
Grate a little fresh nutmeg into the mixture for added earthiness and nuttiness. Especially good with smoked cheeses!
Mix your cornflower with a tbsp of Kirsch, brandy or cognac for a more complex flavour. Or, try substituting white wine for your favourite ale or beer, for a hearty finish.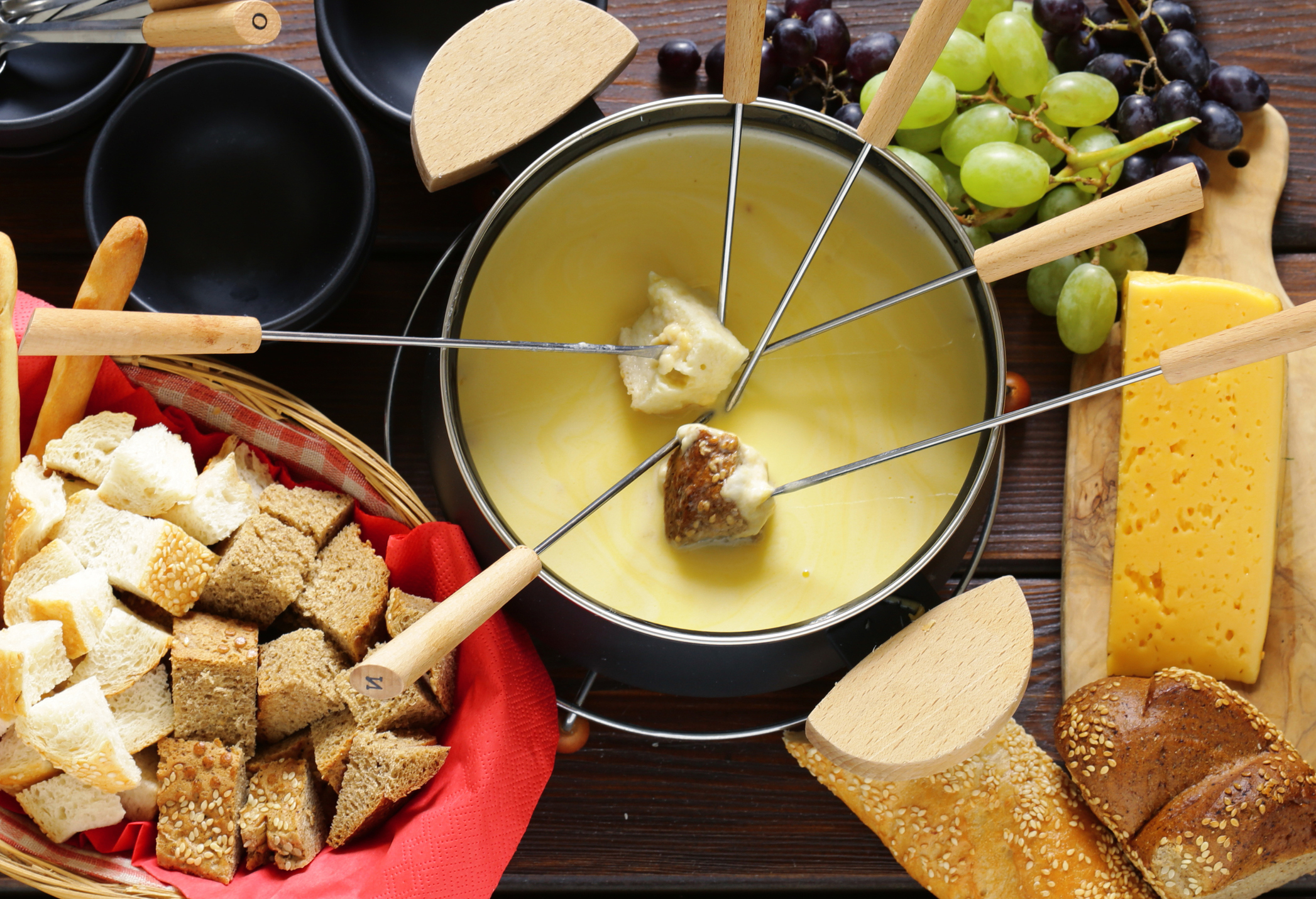 Don't forget to add Baron Bigod to your next doorstep delivery and as always, we love to see your creations, so please do share your images with us!