In all of tennis, no name gets more recognition than Wimbledon. It's the iconic location, the place where the first tournaments were held, and still the most recognized of all the Grand Slam events.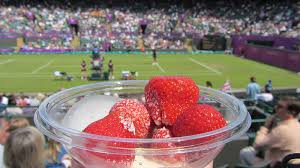 The ultimate Wimbledon tradition among fans has less to do with the game and more to do with the taste buds: strawberries and cream. Originally consumed by royalty, the tasty favourite has spread to the crowd in general, and is as much a part of the tournament as tennis.
The growing season for strawberries is at its peak during the Wimbledon tournament, so it's no surprise that strawberries are in abundance then. Originally done as per necessity (they would spoil if not eaten during their season), they are now consumed en masse by the crowds that gather each year to watch the sport. The standard servings at Wimbledon are no less than 10 berries plus the cream that goes along with it and there are more than 8,600 punnets eaten per day – when you consider the tournament lasts for around two weeks, that's a lot of strawberries and cream!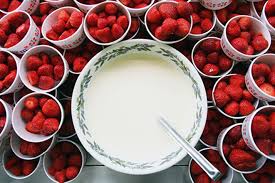 More than 7,000 litres of fresh cream is consumed during the course of the tournament, in addition to 28,000 kg of strawberries. The strawberries arrive fresh each morning, and are thoroughly inspected before being served. Unlike most tournaments, when Wimbledon officials tell you it's fresh, they mean it. The sweet flavour of the cream combined with the slightly tart taste of strawberries is the perfect combination, often washed down with Champagne, Pimms, or a pint of your favourite ale.
Here is some strawberry trivia to get you in the mood for the sweetest, succulent strawberries that will be served this summer:
Last year, 23 tonnes of strawberries were served, which amounts to over 2 million individual berries
When laid end-to-end, these berries would stretch almost 60km (37 miles), i.e. from Wimbledon to Reading
Strawberries like growing in relatively hardy conditions. In the wild they are mostly found in woodlands, adjacent to seashores or in rock screes at cool altitudes
They have adapted to a wide range of climates and can grow from northerly latitudes like Sweden to the middle of Africa
Each seed is genetically different from its neighbour
It takes approximately thirty days from being a flower to become a ripe fruit
Strawberries are very nutritious and contain:

nearly 5 times as much vitamin C as blackberries
twice the amount of vitamin C as grapefruit, mangos, nectarines or red currants
they are also high in phosphates and potassium
they are low in fat and rich in antioxidants which protect against heart disease and cancer
150g of strawberries contain only 45 calories, so those who indulge don't bulge!

William Butler said 'Doubtless God could have made a better berry but doubtless God never did'. We couldn't have put it better ourselves!
Finally, freeze-dried strawberries were one of the early foods provided by NASA to feed astronauts so they are, quite literally, an out of this world experience!
If like us, you aren't lucky enough to be gracing Wimbledon with your presence this summer, then be sure to stock up on strawberries and lashings of fresh cream (available to purchase from our website) to enjoy in front of the TV.