Enjoy the taste of summer with these simple recipes that will go down a treat with family and friends.

Leek, cheese and bacon tart
1 tbsp olive oil
3 leeks, thinly sliced
375g pack ready-rolled puff pastry
150g pack soft cheese with garlic and herbs
4 rashers streaky bacon, snipped
100g cheese, grated
Methods
Heat oven to 200°C/180°C fan/Gas Mark 6. Heat the oil in a frying pan, then gently fry the leeks until soft, about 5 mins. Cool. Unroll the pastry onto a baking sheet. Spread the soft cheese over the pastry to within 3cm of the edges. Scatter over the leeks, bacon and grated cheese.
Flip the edges of the pastry over the filling. Bake for 20 mins until golden.
Source: https://www.bbcgoodfood.com/recipes/leek-cheese-bacon-tart

Summer sautéed potatoes
Ingredients
1 ½kg potato, cut into small chunks
4 tbsp rapeseed oil
1 tbsp butter
4 bay leaves
2 garlic cloves (don't worry about peeling)
1 lemon, zest
Small bunch parsley, chopped
Method
Place the potatoes in a large pan, cover with water and bring to the boil. Simmer for 5-8 mins until starting to soften but not falling apart. Drain and leave to steam-dry in the colander for a few mins.
Heat the oil and butter in a large frying pan. Scrunch up the bay leaves in your hands and add them to the pan along with the whole garlic cloves. Once the potatoes are dry, tip into the pan and season. Toss them in the pan and cook over a medium-high heat for 20-25 mins, turning often, using a fish slice so you don't break them up.
When the potatoes are crisp and golden, grate the lemon zest straight over and cook for 1-2 mins more. Taste for seasoning, then scatter with parsley and serve.
Source: https://www.bbcgoodfood.com/recipes/summer-sauteed-potatoes
Summery green coleslaw
Ingredients
For the coleslaw
100g peas or broad beans
1 small green cabbage, shredded
1 large courgette, grated or cut into matchsticks
1 large fennel bulb, finely sliced into matchsticks
1 bunch spring onions, finely sliced
2 celery sticks, finely chopped
1 green apple, grated
½ lime, juice only
1-2 tbsp chopped fresh herbs including basil, mint
For the dressing
2 tbsp plain yoghurt
2 tbsp low-fat mayonnaise
1 lemon, zest and juice
1 tbsp fresh herbs
Sugar, pinch
Method
To make the coleslaw, bring a pan of water to the boil, add the peas or beans, bring the water back to the boil and cook for 2 minutes, then refresh in cold water, drain and set aside.
Place the peas or beans, cabbage, courgette, fennel, spring onions, celery and apple into a large bowl and mix. Finish with the lime juice and fresh herbs.
To make the dressing, mix all the ingredients together in a small bowl. Dress the coleslaw just before serving.
Source: https://www.bbc.co.uk/food/recipes/summery_green_coleslaw_23859

Banana muffins
Ingredients
250g self-raising flour
1 tsp baking powder
½ tsp bicarbonate of soda
110g caster sugar
Salt, pinch
75g butter, melted
1 tsp vanilla extract
2 eggs
2 large ripe bananas, mashed
125ml buttermilk
50g pecans, to decorate
Method
Heat the oven to 190°C/170°C Fan/Gas Mark 5. Line a 12-hole muffin tin with paper cases.
Sift together the flour, baking powder, bicarbonate of soda and caster sugar with a big pinch of salt. In a separate bowlmix the melted butter, vanilla extract, eggs, mashed bananas and buttermilk.
Make a well in the centre of the dry ingredients and pour the wet ingredients in. Roughly mix together with a fork, being careful not to over-mix. Spoon the mixture into the muffin cases. Top with pecan halves.
Bake for 20-25 mins, until golden brown. Cool on a wire rack.
Source: https://www.bbcgoodfood.com/recipes/banana-muffins

Pear cake
Ingredients
50g butter, melted, plus extra for the tin
500g ripe buttery pears, peeled, cored and roughly chopped
Juice 1 lemon
75g plain flour
1 heaped tsp baking powder
75g caster sugar
2 eggs, beaten
2 tbsp apricot jam, for the glaze
Icing sugar, for dusting
Crème fraîche, to serve
Method
Heat oven to 180°C/160°C fan/Gas Mark 4. Line a 20cm loose-bottomed cake tin with baking parchment and brush with butter.
Put the prepared pears in a bowl with the lemon juice, to prevent them discolouring. Sieve the flour and baking powder into a bowl, adding a pinch of salt and the caster sugar.
Next beat in the eggs and melted butter. Finally, fold in the pears with their juices. Pour the cake mixture into the tin.
Bake for about 50 mins or until a skewer comes out clean. Place on a wire rack and allow to cool slightly before removing from the tin, gently peeling away the parchment.
To make the glaze, melt the apricot jam with 1 tbsp water and pass through a sieve to remove any lumps. Brush the cake with the glaze, dust with icing sugar and serve warm with crème fraîche.
Source: https://www.bbcgoodfood.com/recipes/anjou-pear-cake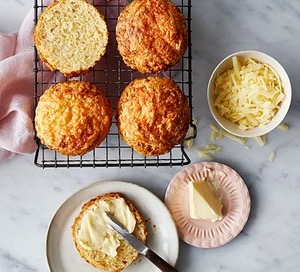 Classic cheese scones
Ingredients
225g self-raising flour, plus extra for dusting
Salt, pinch
Cayenne pepper, pinch
1 tsp baking powder
55g chilled butter, cut into cubes
120g mature Cheddar, grated
90-100ml milk, plus 1 tbsp for glazing
Method
Heat the oven to 200°C/180°C fan/Gas Mark 6 with a large baking tray inside. Sift the flour, salt, cayenne pepper and baking powder into a bowl, then sift again to make sure the ingredients are thoroughly combined.
Add the butter to the bowl and combine with your fingertips to make breadcrumbs. Sprinkle 100g of the cheese into the breadcrumb mixture and rub together until evenly distributed. Try not to mix too much as the heat from your hands may start to melt the butter.
Make a well in the centre of the mixture and pour in enough milk to give a fairly soft but firm dough. Do not pour in all the milk at once as you may not need it all to get the right consistency.
Lightly flour a surface and roll out the dough to approximately 2cm thick. Cut out the scones with a medium (about 8cm) cutter, then put on a sheet of baking parchment, glaze with a little milk and sprinkle with the remaining cheese. Slide onto the hot oven tray.
Bake in the oven for 15-20 mins or until golden brown and cooked through.
Source: https://www.bbcgoodfood.com/recipes/easy-cheese-onion-slice